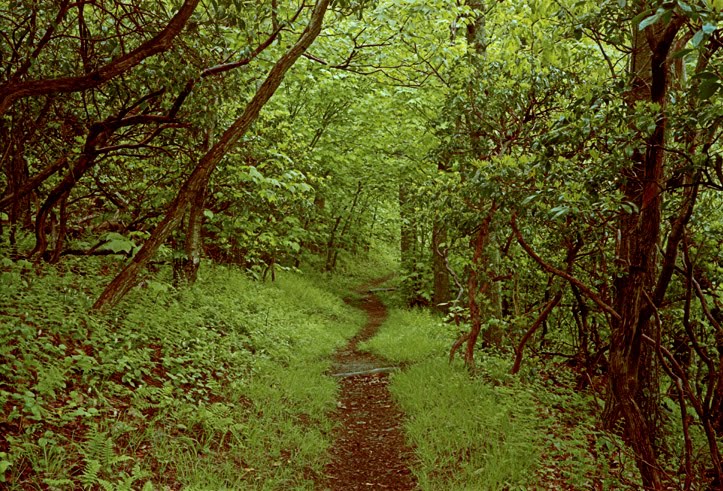 By Trisha Crowe Until recently, the use of the word "trails" at zoos typically referred to pathways that allowed visitors to travel throughout a zoo to look at species in (relatively) small enclosures. Now through innovative design, some animals are able to access enclosed trail systems which are opening up a whole new world for them.  The trails afford them the opportunity to explore areas that were previously inaccessible from their smaller, standard exhibits.
Since this type of exhibit has only been implemented over the past few years, research regarding the impacts on the animal's physical and psychological well-being is only in the early stages. Proponents of the animal trails have high expectations surrounding the benefits to both the animals and to the visitor experience. For one thing, many animals in the wild spend time in trees or above the ground. Overhead trails allow animals to be up higher than their human counterparts, which is believed to relieve stress in some species. These animals are also experiencing added stimulation from having a new perspective and new spaces to explore. While habitat areas in traditional exhibits may grow "stale", allowing the rotation of species through the same trail system can also provide sensory enrichment and opportunities for animals to get more exercise,
thus helping to avoid lethargy and stereotypic behaviors. For larger land mammals such as elephants, giraffes and hoofed mammals the trails provide more area to roam, which more closely resembles their natural habitat and allows for the expression of more "normal" behaviors.
These exhibit types also allow for more unique visitor experiences; from seeing the same animals in different places on the trail throughout the day to seeing entirely different species in the same area on different days.
Similar design ideas are taking off in a number of institutions; however the Philadelphia Zoo is in the midst of a ground-breaking effort to create an enclosed animal trail system that encompasses the whole zoo. Their plan has been created by
CLR Design in Philadelphia along with renowned zoo designer Jon Coe. The following timeline outlines the Philadelphia Zoo's trail-system plans:
2013. Treetop Trail will be extended down a main path to the primate reserve, intersecting a new children's zoo and education center opening in the spring. A climbing tower will allow visitors to see the primates on the trail system at eye level.
2014. Another new trail will link the orangutan trail with the big-cat areas and later with a gorilla exhibit.
2015. A pilot trail for large land animals will connect the existing African Plains exhibits; allowing zebras, rhino, giraffe, hippos and antelope to rotate through one another's exhibits.
2016. A new exhibit for hoofed animals that use the land trail system will open.
Listed below are other examples of trail-type exhibits that have either already opened or are under construction.
Cleveland. Elephant crossing at Cleveland Zoo is spread over five acres of lightly wooded grasslands, African Elephant Crossing. It features two large yards for roaming, ponds for swimming, expanded sleeping quarters, and a heated outdoor range.
Denver. Toyota Elephant Passage is a 10-acre area with six connected habitats and 100 animal-transfer gates managed in a central control center.  The 10 acres of varied terrain and 2 miles of interconnected trails, Toyota Elephant Passage "not only showcases Southeast Asia's wildlife (including Asian elephants, one-horned rhinoceros, Malayan tapir, the fishing cat, clouded leopard and the Asian small-claws otters) but tells the stories of people and places in tropical Asia."
Jacksonville. The Range of the Jaguar at Jacksonville Zoo is a 4.5-acre exhibit that features over 80 species of mammal, reptiles, fish, and birds representing the Central and South American habitat of the jaguar.
Louisville. The Islands Exhibit features endangered animals that are rotated through four habitats connected by transfer aisles to allow safe passage of species.
Louisville. Polar Bear Crossing at Glacier Run is just part of the large Glacier exhibit for the bears where they can also play in the 80,000 gallon pool, dive off rocks,and  explore dig pits.  The indoor Bear Alley exhibit in the center of town offers fun diversions for bears and visitors.
Washington, D.C. The National Zoo's Orangutan Transport System, or "O" Line, allows orangutans to swing from or walk across plastic-coated steel cables among eight 50-foot towers placed between two buildings, a distance of 490 feet.9
Washington, D.C. Elephant Trail at The National Zoo aims to provide all elephants with indoor-outdoor access year round. The Elephant Community Center and Elephant Barn contain nine indoor living areas, or "suites." The outdoor component of Elephant Trails contains seven enclosures, including four exhibit yards, two paddocks, and an Elephant Trek. Elephant Trails spans 8,943 square meters total. The indoor exhibit is 1,232 square meters and the outdoor exhibit is 7,711 square meters.10
Upcoming at Jacksonville Zoo...Land of the Tiger. Tigers will make their return to the Jacksonville Zoo in a new exhibit set to open in March of 2014. The exhibit will also include other Asian animals such as the critically endangered Viscayna warty pig and babirusa pig, Asian small-clawed otters and wrinkled and wreathed hornbills. The plan is to that there will be "seven new structures will be built for animal housing, guest viewing and event space."11
Trisha Crowe has been a team member in Pittsburgh, PA-area businesses focusing on design, planning and environmental issues for over 10 years. Trisha's passion - and primary reason for completing her Master's of Landscape Architecture in 2010 - is zoo exhibit design.